Leslie Blackhall
Leslie J. Blackhall, MD, is Associate Professor of Medicine and Medical Humanities at the University Of Virginia School of Medicine and Director of Palliative Care Services and received her medical degree from New York University. Dr. Blackhall has had a career-long focus on the care of patients with life-limiting illnesses. Her current work focuses on the understanding of the end of life as a developmental stage and part of a continuum of care for all patients, and to transform medical education and health care systems to ensure patients in this stage of life receive compassionate, mindful, inter-professional, and clinically excellent care.
Visiting Faculty: Contemplative Psychotherapy.
Tara Brach
Tara Brach, PhD, is a psychologist, author, and meditation teacher. She received her doctorate in clinical psychology from the Fielding Graduate University and wrote her dissertation on an analysis of the effectiveness of meditation in the healing of eating disorders. A guiding teacher and founder of the Insight Meditation Community of Washington, D.C., she is also a co-founder of the Meditation Teacher Training Institute (Washington, D.C.). She is the author Radical Acceptance: Embracing Your Life With the Heart of a Buddha, and True Refuge: Finding Peace & Freedom in Your Own Awakened Heart. Dr. Brach's teachings focus on the application of Buddhist teachings to emotional healing.
Visiting Faculty: Contemplative Psychotherapy.
Nida Chenagtsang
Dr. Nida Chenagtsang was born in Amdo, in Eastern Tibet, and studied Tibetan Medicine at Lhasa Tibetan Medical University. His extensive research, publication and teaching on the spiritual healthcare system of Tibetan Medicine, the Yuthog Nyinthig Vajrayana tradition, has sparked a revival of interest in its rigorous contemplative approach to embodied mental and spiritual well-being. Dr. Nida is the Co-Founder and Medical Director of Sorig Khang International and Co-Founder of the International Ngakmang Institute, established to preserve and maintain the Rebkong Ngakpa yogic culture within modern Tibetan society. Fluent in English and now living in Rome, Dr. Nida trains students in Sowa Rigpa and the Yuthok Nyingthig spiritual tradition in over 40 countries around the world.
Visiting Faculty: Contemplative Psychotherapy.
Richard Davidson
Richard Davidson, PhD, is a neuroscientist and received his doctorate from Harvard University. He is professor of psychology and psychiatry at the University of Wisconsin–Madison, as well as Founder and Director of the Center for Healthy Minds. Dr. Davidson has published hundreds of scientific papers and is the author of The Emotional Life of Your Brain and Altered Traits: Science Reveals How Meditation Changes Your Mind, Brain, and Body (co-written with Daniel Goleman). Best known for his groundbreaking work studying emotion and the brain, his current research is broadly focused on the neural bases of emotion and emotional style as well as methods to promote human flourishing, including meditation and related contemplative practices.
Visiting Faculty: Contemplative Psychotherapy.
Marcelo Demarzo
Marcelo Demarzo, MD, PhD is a family doctor specializing in mindfulness and health promotion for adults and children. He is an Associate Professor (Senior Lecturer) of the Department of Preventive Medicine in the Escola Paulista de Medicina, UNIFESP. He graduated from FMRP-USP (Ribeirão Preto Medical School, University of Sao Paulo) in 2000, was awarded a PhD in Pathology at USP in 2005, and Post-Doctor in Mindfulness and Mental Health at the University of Zaragoza, Spain in 2012–2013. Dr. Demarzo is a specialist in Family and Community Medicine, and in Sports Medicine and Exercise. He is a  Permanent Advisor in the Master's Program and Doctorate in Population Health of UNIFESP, a Senior Fellow of the International Primary Care Research Leadership Program (Department of Primary Care Health Sciences, University of Oxford) since 2012, and a Senior Fellow of the International Complementary & Integrative Medicine Research Leadership and Capacity Building Program (Australian Research Centre for Complementary and Integrative Medicine (ARCCIM)) since 2020. In addition, he is the  Coordinator of the Mente aberta ("Open Mind"), Brazilian Center for Mindfulness and Health Promotion,  Coordinator of the Master in Mindfulness of UNIFESP, an Honorary member of the Advisory Board Committee of the ACCESS MBCT, and a member of the International Behavioral Neuroscience Society and a Medical Member of the Brazilian College of Lifestyle Medicine.
Visiting Faculty: Contemplative Psychotherapy.
Mark Epstein
Mark Epstein, MD, is a Harvard-trained psychiatrist in private practice in New York City. He is currently a Clinical Assistant Professor in the Postdoctoral Program in Psychotherapy and Psychoanalysis at New York University. He is a contributing editor to Tricycle and the author of numerous books that integrate Buddhism and psychotherapy, especially in relation to trauma. His books include Thoughts Without a Thinker: Psychotherapy from a Buddhist Perspective (Basic Books,1995), Going on Being: Life at the Crossroads of Buddhism and Psychotherapy (Wisdom, 2008), Psychotherapy Without the Self: A Buddhist Perspective (Yale University Press, 2008), and Advice Not Given: A Guide to Getting Over Yourself (Penguin, 2018).
Past Visiting Faculty: Contemplative Psychotherapy.
Diana Fosha
Diana Fosha, PhD, is a psychologist and received her doctorate from the City College of the City University of New York. She developed Accelerated Experiential Dynamic Psychotherapy (AEDP), a healing-based, transformation-oriented model of psychotherapeutic treatment and is also the Founder and Director of the AEDP Institute. She is the author of The Transforming Power of Affect: A Model for Accelerated Change (Basic Books, 2000), and is also senior editor, with Daniel Siegel and Marion Solomon of The Healing Power of Emotion: Affective Neuroscience, Development & Clinical Practice (Norton, 2009). Dr. Fosha's work on healing transformational processes focuses on integrating neuroplasticity, recognition science, and developmental dyadic research into experiential clinical process work with patients.
Visiting Faculty: Contemplative Psychotherapy.
Paul Fulton
Paul R. Fulton, EdD, is a clinical psychologist who also is the course director of the Institute for Meditation and Psychotherapy's year-long Certificate Program in Mindfulness and Psychotherapy, a lecturer in Psychology at the Department of Psychiatry of Harvard Medical School at Cambridge Health Alliance, and Board member/co-founder of the Institute for Meditation and Psychotherapy. He received his doctorate in comparative human development from Harvard University. Dr. Fulton is interested in investigating and training mental health professionals in the application of principles of Buddhist psychology in psychotherapy.
Visiting Faculty: Contemplative Psychotherapy.
Chris Germer
Christopher Germer, PhD, is a clinical psychologist, a lecturer on psychiatry (part-time) at Harvard Medical School, and travels extensively leading workshops on mindfulness and self-compassion. He received his doctorate in clinical psychology from Temple University. Dr. Germer is the author of The Mindful Path to Self-Compassion and co-editor of Mindfulness and Psychotherapy, and Wisdom and Compassion in Psychotherapy. Currently, he is co-developer (with Kristin Neff) of the Mindful Self-Compassion (MSC) training program and actively engaged in research and training teachers of MSC.
Visiting Faculty: Contemplative Psychotherapy.
Priscilla Gilman
Priscilla Gilman is a former professor of English literature at Yale University and Vassar College and the author of The Anti-Romantic Child: A Story of Unexpected Joy (Harper) and The Critic's Daughter (forthcoming from Norton). She has written about autism, literature, education, and the arts for the Boston Globe, the New York Times, O: The Oprah Magazine, Real Simple, the Chicago Tribune, Newsweek, and Slate, and was the parenting/education advice columnist for #1 New York Times bestselling author Susan Cain's Quiet Revolution website. Gilman speaks frequently at schools, organizations, and conferences and teaches literature classes for Yale Alumni College. She is a Nalanda Institute certified Mindfulness and Loving-Kindness meditation instructor and the mother of an autistic and a dyslexic son.
Visiting Faculty.
Soren Glassing
Soren Glassing is a Zen Buddhist monk, and Staff Chaplain at New York Presbyterian Columbia University Medical Center. He is the head chaplain on the Palliative Care team and works on the psychiatric unit. He has been practicing Zen since 1985 both in America (at Dai Bosatsu Zendo Kongo-ji) and in Japan (at Shogenji, Gifu-Ken) and was the head monk and co-director of the Zen Studies Society in New York City under the name Seigan. He began training as a chaplain in 2008 with The New York Zen Center for Contemplative Care and completed his training as a resident chaplain at New York Presbyterian Hospital in 2012. Soren leads ongoing weekly meditation, spirituality, and various support groups throughout the hospital. He teaches spirituality in the healthcare setting to new medical students, mentors residents and fellows, and teaches clinicians ways to reduce stress and burnout on the job. For the past several years, Soren has presented 90-minute workshops and Personal Development Intensives at the Association for Professional Chaplain annual convention, and has taught webinars on Buddhism and the contemplative arts. He lives in New York City, and continues as a visual artist and bringing art into his chaplaincy.
Visiting faculty.
Linda Graham
Linda Graham, MFT, is an experienced psychotherapist and mindful self-compassion teacher in the San Francisco Bay Area. She integrates modern neuroscience, mindfulness practices, and relational psychology in her international trainings on resilience and well-being.
She is the author of Resilience: Powerful Practices for Bouncing Back from Disappointment, Difficulty, and Even Disaster (September 2018, New World Library) and Bouncing Back: Rewiring Your Brain for Maximum Resilience and Well-Being, winner of the 2013 Books for a Better Life award and the 2014 Better Books for a Better World award. She publishes a monthly e-newsletter and weekly Resources for Recovering Resilience, archived at lindagraham-mft.net.
Visiting Faculty: Contemplative Psychotherapy.
Joan Halifax
Joan Halifax, PhD, is a Buddhist teacher, Zen priest, anthropologist, and pioneer in the field of end-of-life care. She received her PhD in medical anthropology and has extensively lectured on the subject of death and dying. Roshi Halifax is the founder, abbot, and head teacher of Upaya Institute and Zen Center in Santa Fe, New Mexico. She is Director of the Project on Being with Dying, and Founder of the Upaya Prison Project that develops programs on meditation for prisoners. She is also the founder of the Nomads Clinic in Nepal. Her books include: The Human Encounter with Death (with Stanislav Grof), Simplicity in the Complex: A Buddhist Life in America, and Being with Dying: Cultivating Compassion and Wisdom in the Presence of Death.
Visiting Faculty: Contemplative Psychotherapy.
Rick Hanson
Rick Hanson, PhD, is a psychologist, teacher, and New York Times best-selling author. Dr. Hanson is a co-founder of the Wellspring Institute for Neuroscience and Contemplative Wisdom and is a Senior Fellow of the Greater Good Science Center at UC Berkeley. An authority on self-directed neuroplasticity, his books include Buddha's Brain: The Practical Neuroscience of Happiness, Love, and Wisdom and Hardwiring Happiness: The New Brain Science of Contentment, Calm, and Confidence, and Just One Thing: Developing a Buddha Brain One Simple Practice at a Time.
Past Visiting Faculty: Contemplative Psychotherapy.
Reggie Hubbard
Reggie Hubbard, BA, MBA, is a leading activist, strategist, and teacher with experience in fields ranging from global marketing, digital and community organizing, government relations, international education and Presidential campaigning. Reggie holds a BA in Philosophy from Yale, and an international MBA from the Vlerick Business School in Belgium and is also a 500-hour certified yoga teacher and author of a thesis entitled, "Yoga and Spiritual Activism: Serving Humanity from a Sense of Devotion and Love."
He teaches Members of Congress, Congressional Staff, leading progressive organizations and individuals, sharing techniques for growing peace and ease as a foundation, not an afterthought in his teaching practice, Active Peace Yoga. In July 2020, Reggie helped launch a grassroots campaign along with David Lipsius, Amy Ippoliti, Jack Kornfeld and Tara Brach called Buddhists and Yogins United in an effort to share information and inspire teachers to encourage active civic participation in the upcoming election and beyond.
Visiting Faculty.
Katherine Jamieson
Katherine Jamieson is a graduate of the University of Iowa Nonfiction Writing Program, where she was an Iowa Arts Fellow. Her essays and articles have been published in The New York Times, Newsday, Ms. magazine, Narrative, and Orion, and anthologized in The Best Travel Writing series. She has taught writing and literature, in-person and online, at colleges and universities around the country. Katherine is a Buddhist and has practiced at Zen Mountain Monastery since 2000.
Visiting Faculty.
Jonathan Kaplan
Jonathan Kaplan, Ph.D., is a clinical psychologist that serves as the director of the SoHo CBT + Mindfulness Center, which specializes in providing innovative cognitive behavioral therapy and mindfulness training for adults, teens, children, couples, and organizations. In 2000 he earned his doctoral degree from UCLA where he initially started practicing mindfulness and meditation.  Recently, Dr. Kaplan was a contributing author of Becoming Mindful: Integrating Mindfulness into your Psychiatric Practice (2017). Dr. Kaplan is committed to studying and practicing Theravada Buddhism, while integrating it with modern life (e.g., parenting, city life, social justice, etc.).
Visiting Faculty: Contemplative Psychotherapy.
Zoran Josipovic
Zoran Josipovic, PhD, is a research associate at the Cognitive Neurophysiology Lab, NYU Langone Medical Center, and adjunct assistant professor of Cognitive and Affective Neuroscience in the Department of Psychology at New York University. He has twice been awarded the Mind Science Foundation Award for research on consciousness. With his wife, Judith Blackstone, he is a director of Nonduality Institute, an independent center for the science and practice of nonduality. His research interest is the state of consciousness cultivated through contemplative practice, what these states can tell us about the nature of consciousness, and its relation to authentic subjectivity; and what relevance this may have for understanding global and local organization in the brain.
Visiting Faculty: Contemplative Psychotherapy.
Lyla June
Lyla June Johnston is an Indigenous public speaker, artist, scholar and community organizer of Diné (Navajo), Tsétsêhéstâhese (Cheyenne) and European lineages from Taos, New Mexico. Her messages focus on Indigenous rights, supporting youth, traditional land stewardship practices and healing inter-generational and inter-cultural trauma. She blends undergraduate studies in human ecology at Stanford University, graduate work in Native American Pedagogy at the University of New Mexico, and the indigenous worldview she grew up with to inform her perspectives and solutions. Her internationally acclaimed presentations are conveyed through the medium of poetry, music and/or speech. She is currently pursuing a doctoral degree at the University of Alaska, Fairbanks in Indigenous Studies with a focus on Indigenous Food Systems Revitalization.
Visiting Faculty.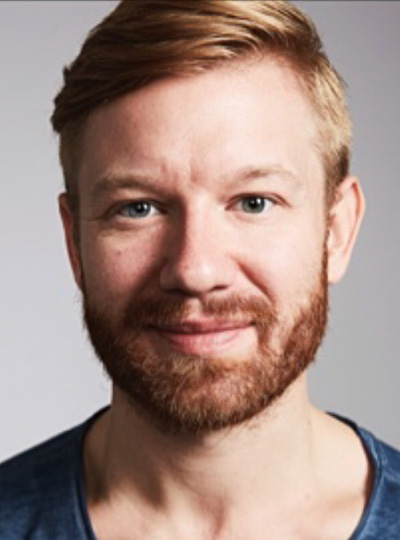 Jacob Kyle
Jacob Kyle, MSc, MA, is a yoga asana teacher, writer, philosophy educator and the Founder of Embodied Philosophy, an online educational platform for Eastern philosophies and practices. Kyle holds two Masters Degrees in Philosophy: an MSc in Political Philosophy from the London School of Economics and Political Science, and an MA in the History of Philosophy from the New School for Social Research. He studied Freudian and Lacanian psychoanalysis at the Centre for Freudian Analysis and Research in London. His ongoing studies in Western and Eastern philosophies have included the study of the Yoga Sutras with Edwin Bryant and Tantrik philosophy with Christopher Wallis. He was initiated into Neelakhanta Meditation and has since then been enrolled in Blue Throat Yoga programs under the tutelage of esteemed Kashmir Shaivism scholar Paul Muller-Ortega, studying the texts and practices of the Trika Kula lineage of Kashmir Shaivism. To augment his yoga teaching practice, Kyle has completed over seven hundred hours of training and workshops with many master teachers.
Visiting Faculty: Contemplative Psychotherapy Program.
Lobsang Tenzin Negi
Lobsang Tenzin Negi, PhD, is the co-founder and Director of the Emory-Tibet Partnership and a Professor of Practice in Emory University's Department of Religion. Dr. Negi received his doctorate from Emory and a Geshe Lharampa degree (the Tibetan Buddhist equivalent of a PhD), from Drepung Loseling Monastery in south India. He is also the founder and spiritual director of Drepung Loseling Monastery, in Atlanta. Geshe Negi also developed Cognitively-Based Compassion Training (CBCT), a systematic and secular compassion training based on traditional Tibetan Buddhist mind training. CBCT is currently utilized in a number of research studies, including an NIH-funded study examining the efficacy of compassion meditation on the experience of depression.
Visiting Faculty: Contemplative Psychotherapy.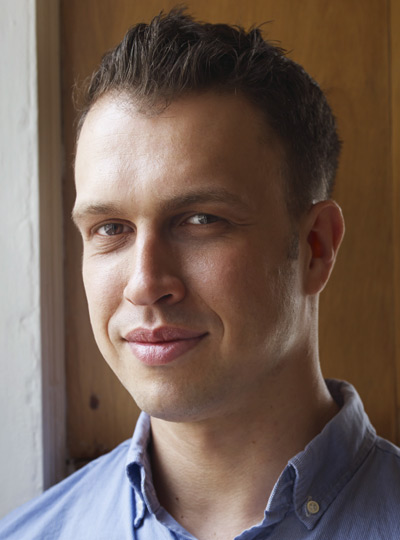 Ethan Nichtern
Ethan Nichtern, is a Buddhist teacher, author, and activist. He is a Shastri, a senior teacher, in the Shambhala Buddhist tradition, and is currently senior teacher-in-residence for the Shambhala New York community. Additionally, Nichtern founded the Interdependence Project, a nonprofit organization dedicated to secular Buddhist practice and transformational activism and arts. His books include The Road Home: A Contemporary Exploration of the Buddhist Path and The Dharma of The Princess Bride: What The Coolest Fairy Tale of Our Time Can Teach Us About Buddhism and Relationships. His articles have been featured in Lion's Roar, Tricycle, BuddhaDharma, as well as many other online publications.
Visiting Faculty: Contemplative Psychotherapy.
Erin L. Olivo
Erin L. Olivo, PhD, MPH, is a clinical psychologist in private practice. She is a former Assistant Clinical Professor of Medical Psychology at Columbia University, and the former Director of the Columbia Integrative Medicine Program, which she headed with Dr. Mehmet Oz. She has intensive training in Dialectical Behavior Therapy (DBT), Mindfulness Based Cognitive Therapy (MBCT), and clinical hypnosis. Dr. Olivo researches the benefits of mind-body strategies in medical and mental health care, especially for people facing cancer, cardiovascular disease, and obesity.
Visiting Faculty: Contemplative Psychotherapy.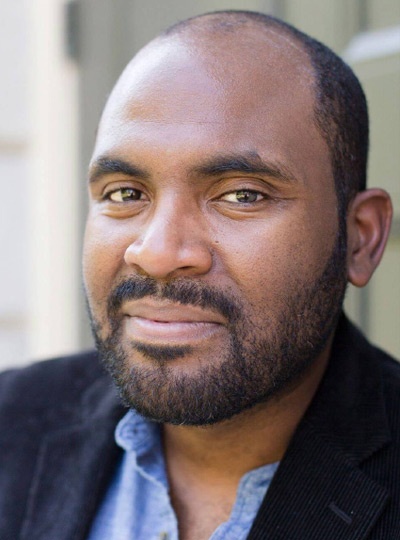 Lama Rod Owens
Lama Rod Owens is considered one of the emerging leaders of his generation of Buddhist teachers. An author, activist, and teacher, he is the co-founder of Bhumisparsha, a Buddhist tantric practice community as well as a visiting teacher with several Buddhist centers including the Natural Dharma Fellowship and the Brooklyn Zen Center. A graduate of Harvard Divinity School, Lama Rod has also been a guest faculty member at the Harvard School of Education's program Mindfulness for Educators. He has been a regular guest on SiriusXM's Urban View hosted by Pulitzer Prize winning journalist Karen Hunter. He is also a co-author of Radical Dharma: Talking Race, Love, and Liberation and his next book project exploring transformative anger and rage is due out Fall 2019. Lama Rod can be reached at lamarod.com.
Visiting Faculty: Contemplative Psychotherapy.
Sensei Koshin Paley Ellison
Sensei Koshin Paley Ellison, MFA, LMSW, DMIN, is an author, Zen teacher, Jungian psychotherapist, and Certified Chaplaincy Educator. Koshin co-founded the New York Zen Center for Contemplative Care. He is on the faculty of the University of Arizona Medical School's Andrew Weil Center for Integrative Medicine's Integrative Medicine Fellowship and on Faculty of the Integrative Medicine Fellowship of the Academy of Integrative Health and Medicine. He is the author of Wholehearted: Slow Down, Help Out, Wake Up (Wisdom Publications, 2019) as well as the co-editor of Awake at the Bedside: Contemplative Teachings on Palliative and End of Life Care (Wisdom Publications, 2016).
Visiting Faculty: Contemplative Psychotherapy.
Lobsang Rapgay
Lobsang Rapgay, PhD, is a research psychologist, and Director of the Clinical Training program for Mental Health Professionals at the Mindfulness Awareness Research Center, UCLA. Dr. Rapgay was the first President of the International Association of Tibetan Physicians. His books on meditation and Tibetan medicine, include Tibetan Medicine: A Holistic Approach to Better Health, The Tibetan Book of Healing, and Real Meditation in Minutes a Day: Enhancing Your Performance, Relationships, Spirituality, and Health (with Joseph Arpaia). Dr. Rapgay specializes in clinical behavioral medicine with a focus on the assessment and treatment of chronic psychophysiological disorders and psychiatric symptoms.
Visiting Faculty: Contemplative Psychotherapy.
Jeffrey B. Rubin
Jeffrey B. Rubin, PhD, is an author, meditation teacher, and a psychotherapist in private practice. He is is a graduate of Princeton University, Columbia University and Union Institute. Dr. Rubin is a sensei in the Rinzai Zen lineage and the "creator of meditative psychotherapy." He is also a training and supervising analyst at the Westchester Institute for Training in Psychoanalysis and Psychotherapy. Among the books that he has authored are The Art of Flourishing: A New East-West Approach to Staying Sane and Finding Love in an Insane World and Meditative Psychotherapy: The Marriage of East and West.
Visiting Faculty: Contemplative Psychotherapy.
Broderick Sawyer
Broderick Sawyer, PhD, is an activist, clinical psychologist, meditation teacher, and consultant in Louisville, KY. He teaches mental health professionals, activists, non-profit members, college students, and businesses how to decondition generationally-inherited oppressive psychology. By teaching simple and adaptable techniques, Broderick relies on his doctoral training and 7 years teaching meditation to help people tune into the present moment completely, where compassion for self, others, and true interconnection is realized as solid-truth. Essentially, he understands an enlightened global society as a one where it is understood that no "others" fundamentally exist. As a teacher and trainer, Broderick uses a direct, relatable, and playful approach to helping others develop the skills necessary to build a compassionate future. For more information, check out his website at brodericksawyer.com.
Visiting Faculty.
Sabene Selassie
Sabene Selassie, MA, is a meditation teacher and transformational coach. She is a graduate of the Community Dharma Leader Program at Spirit Rock Meditation Center and a New York Insight. She is a past Executive Director of New York Insight Meditation Center and serves on the board of the Barre Center for Buddhist Studies. For over 20 years she has worked with children, youth, and families nationally and internationally for small and large not–for–profits; her work has taken her from the Tenderloin in San Francisco to refugee camps in Guinea, West Africa. Selassie has worked as a consultant combining social change leadership and mindfulness practices including building inclusive communities, leading social action arts workshops, and teaching meditation.
Visiting Faculty: Contemplative Psychotherapy.
Sonia Sequeira
Sonia Sequeira, PhD, is a neuroscientist, yoga instructor, and manager of the Drug Development Program for Clinical Trials at Memorial Sloan Kettering Cancer Center. She has been teaching yoga since 1997 and is a certified instructor in Hatha, Kundalini, and Naam yoga. Dr. Sequeira is the Founder and Director of the Institute for Meditation Sciences and also spearheads the Advances in Meditation Research conference series. Her work revolves around the use of scientific methodologies to study how meditation can be applied to improve health in diverse populations.
Visiting Faculty: Contemplative Psychotherapy.
Daniel Siegel
Dan Siegel, MD, is a neuropsychiatrist, clinical professor of psychiatry at the UCLA School of Medicine, the founding co-director of UCLA Mindful Awareness Research Center, and Executive Director of the Mindsight Institute. Dr. Siegel received his medical degree from Harvard University and completed his postgraduate medical education at UCLA with training in pediatrics; and child, adolescent and adult psychiatry. Known for his work in the developing field of Interpersonal Neurobiology, Dr. Siegel is also an author of numerous books written for both professional and lay audiences. They include The Developing Mind: How Relationships and the Brain Interact to Shape Who We Are and  Mind: A Journey to the Heart of Being Human.
Past Visiting Faculty: Contemplative Psychotherapy.
Joaquim Soler Ribaudi
Joaquim Soler Ribaudi, PhD, is a senior clinical psychologist working in the Borderline Personality Unit in the psychiatric department of the Hospital de la Santa Creu i Sant Pau in Barcelona. He is also Associate Professor in the Department of Psychiatry and Forensic Medicine at the Autonomous University of Barcelona. He has been trained as a DBT and MBCT therapist. He has collaborated and led several public financed projects on Borderline Personality Disorders (BPD) targeting assessment, genetics and psychological and pharmacological treatments. He has published more than 80 indexed papers related to depression, BPD and mindfulness. In this two latest topics Dr. Soler has assessed the benefits of DBT Mindfulness training for people with BPD in core symptoms such impulsivity and emotional regulation. Dr. Soler is also a researcher in the Center of Research in Mental Heath Network. He was also a principal investigator of the mindfulness group in the Excellence Network for the Dissemination of Psychological Treatments for Mental Health Promotion in Spain. He has been consultant and board member of the European Society for the Study of Personality Disorders (ESSPD), member of the task force in personality disorders of the World Federation of Societies of Biological Psychiatry (WFSBP), member of the de la International DBT Strategic Planning Group (IDSPG) and has been cofounder and president of the Spanish DBT Society.
Visiting Faculty: Contemplative Psychotherapy.
Jasmine Syedullah
Jasmine Syedullah, PhD, is a black feminist political theorist of abolition, as well as co-author of Radical Dharma: Talking Race, Love, and Liberation (North Atlantic Books, 2016). She holds the first Assistant Professor line in Vassar College's Africana Studies Program, celebrating its 50th anniversary this year. Her current book project is a political theory of fugitive slave mother Harriet Jacobs's prophetic witness and writings. Before joining the faculty at Vassar, Syedullah taught at the University of San Francisco and the University of California Santa Cruz where she completed her PhD in Politics with a designated emphasis in Feminist Studies and History of Consciousness. Out in the world and across the country Jasmine is core member of the Radical Dharma Team bringing practices of personal transformation to embodied approaches to social justice and collective liberation from racial injustice and white supremacy to a wide range of communities, centers, and campuses.
Visiting Faculty: Contemplative Psychotherapy.
David R. Vago
David R. Vago, PhD, is a cognitive neuroscientist, and the Research Director of the Osher Center of Integrative Medicine at Vanderbilt University where he is an associate professor in the departments of Physical Medicine and Rehabilitation and Psychiatry. He received his PhD in Cognitive and Neural Sciences from the University of Utah. Dr. Vago's research attempts to clarify adaptive mind-brain-body interactions and their therapeutic relevance in psychiatric settings. In this context, he has been specifically focusing on the study of mindfulness-based interventions in clinical settings, and the basic cognitive and neuroscientific mechanisms by which mindfulness-based practices function.
Visiting Faculty: Contemplative Psychotherapy.
angel Kyodo williams
angel Kyodo Williams is a teacher, activist, author, and founder of the Center for Transformative Change. Ordained as a Zen priest, she is the second black woman recognized as a teacher in her lineage. She is the author of Being Black: Zen and the Art of Living With Fearlessness and Grace and co-author of Radical Dharma: Talking Race, Love, and Liberation. She has fearlessly been working to bridge the worlds of personal transformation and justice. Rev. angel has developed comprehensive systems for illuminating both practical personal change and the profoundly liberating potential of mindfulness, yoga, and somatic practices coupled with wisdom teachings.
Visiting Faculty: Contemplative Psychotherapy.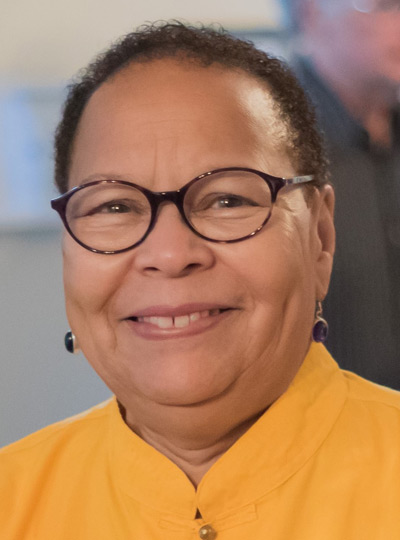 Jan Willis
Jan Willis, (BA and MA in Philosophy from Cornell University; PhD in Indic and Buddhist Studies from Columbia University) is currently Professor of Religion Emerita at Wesleyan University in Middletown, Connecticut and Visiting Professor of Religion at Agnes Scott College in Decatur, GA. She has studied with Tibetan Buddhists in India, Nepal, Switzerland and the U.S. for five decades, and has taught courses in Buddhism for over forty-five years. She is the author of The Diamond Light: An Introduction to Tibetan Buddhist Meditation (1972), On Knowing Reality: The Tattvartha Chapter of Asanga's Bodhisattvabhumi (1979), Enlightened Beings: Life Stories from the Ganden Oral Tradition (1995); and the editor of Feminine Ground: Essays on Women and Tibet (1989). Additionally, Willis has published numerous articles and essays on various topics in Buddhism—Buddhist meditation, hagiography, women and Buddhism, and Buddhism and race. In 2001, her memoir, Dreaming Me: An African American Woman's Spiritual Journey was published. It was re-issued in 2008 by Wisdom Publications as Dreaming Me: Black, Baptist, and Buddhist—One Woman's Spiritual Journey).
In December of 2000, TIME magazine named Willis one of six "spiritual innovators for the new millennium." In 2003, she was a recipient of Wesleyan University's Binswanger Prize for Excellence in Teaching. Newsweek magazine's "Spirituality in America" issue in 2005 included a profile of Willis and, in its May 2007 edition, Ebony magazine named Willis one of its "Power 150" most influential African Americans. In April of 2020, her latest book, Dharma Matters: Women, Race and Tantra; Collected Essays by Jan Willis, was published.
Visiting Faculty: Contemplative Psychotherapy.
Anthony V. Zampella
Anthony V. Zampella, MS, is a Zen practitioner, leadership coach and educator who researches adult learning and leadership development and leads the "practice field" he founded in our Contemplative Psychotherapy Program to facilitate contemplative learning and practice. He received his B.A. in Sociology from U.C. San Diego, M.S. in Journalism from Columbia University, and M.S. in Organizational Leadership from Mercy College, where he went on to direct the program as full-time faculty from 2000–2005. A graduate of our Contemplative Psychotherapy Program, he currently teaches at Rutgers University Business School. Tony's blog, Learning Curve, explores learning and leadership, and he serves on the Editorial Board of "The Philosophy of Coaching, an International Journal." His research on listening has been cited by the International Coaching Federation (ICF), and he is one of 40 international coaches contributing to the Routledge textbook: Complex situations in coaching: A critical case-based approach (forthcoming 2018).
Visiting Faculty: Contemplative Psychotherapy.